A share of the Partnership Château d'Arc-en-Barrois, (hereafter CAB), is similar in concept to a condominium association with similar rights and obligations.
There are 50 shares, one share assigned to each unit/apartment. As a shareholder, you own 1/50th, or 2 percent, of the CAB on equal terms with the 49 other owners. Your use of an apartment is not limited to a specific number of weeks. You can arrive without warning 24 hours a day, 365 days a year, and enjoy your unit and the chateau for as long as you want. If one day you no longer wish to be an owner, you are free to sell your share and unit at the price you deem appropriate.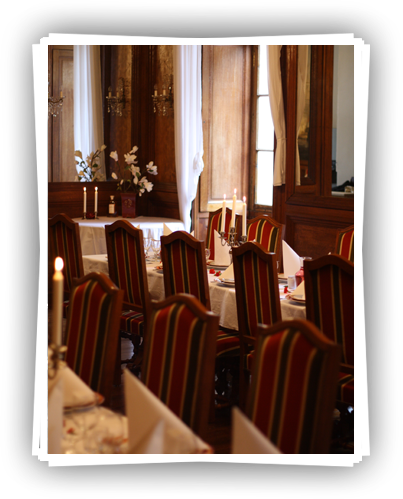 When purchasing, you will receive one key for your private unit. From here forward you can visit as often as you like. You will also enjoy the many opportunities for new friendships with your fellow owners.

We strive for minimal administration, with emphasis on low operating costs and a high level of service; though difficult, this is not impossible! We have assumed that the desire for low cost is a higher priority than a manned reception.
CAB does however provide services for the grounds for the benefit of the entire community.
The community cannot function without an administrator. We use a Danish administrator (CAB Denmark) to pay the chateau bills, such as electricity and water and any required local labor. This administrative service is part of the annual operating budget which is paid from the association fees. CAB Denmark does not have any preference relating to providing this role, but promises to manage the administration as long as the majority wishes, as determined by vote at the annual general meeting. Each year the owners will have the opportunity to renew the CAB Denmark administrative role, or to choose another such service provider.

The Articles of Association emphasize "freedom with responsibility," with relatively few limitations based on community interests. These regulations deal specifically with the chateau's community facilities and are more specifically presented in the CAB house rules.

The Chateau has two historical and protected Banquet Halls which can serve as a restaurant or a dining hall. We have made arrangements with local cooks for catering services. A shareholder can arrange such service directly in advance via email, for example, with appropriate dates and the number of diners, as well as preferred dishes, if any. Again it is important to emphasize that the community is not burdened by this service, but such service is the responsibility of each individual shareholder and will be settled directly with the provider.
A´ bientot